Custom designs and installation of patios, terraces and balconies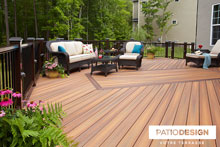 Fiberon Patio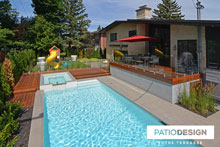 Wood Patio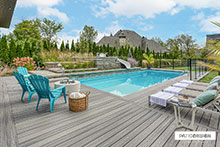 Pool Patio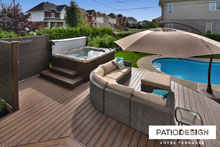 SPA Patio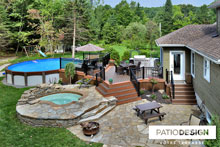 Trex Patio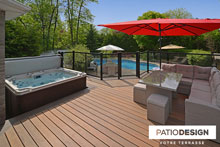 TimberTech Patio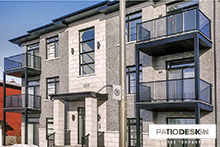 Aluminium Balconies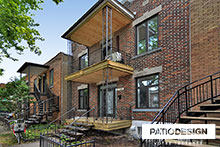 Balconies / Entries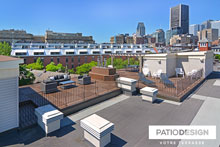 Roof-Terrace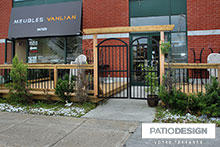 Commercial
Azek Patio
With over 25 years experience and 6,000 projects under our belt, you can count on us to realize your future patio. Customized and on your budget, the projects done by Patio Design inc. will meet your highest expectations.
Patio Design builds and realizes Patios using different material. Reserve your space for the construction of your terrace during spring 2021 so you spend a wonderful next summer. Hurry up, ask for a free quote.
Woods

White Pine
Western Red Cedar
Balau
Ipe
ACQ Treated Wood
Torrefied Wood
Exotic Wood

Composites
Aluminium / Steel / Glass / Fiberglass
Patio Design inc. is the Industry reference
Patios for your pool
Patios for your SPA
Patios-terraces
Terraces on the roof
Balconies and FrontDoors

Gazebos and Pavilions
Commercial Patios
Special Projects
Three-seasons
Storefront
---
Patio Design inc. is a dynamic company that specializes in the planning and implementation of custom patios and terraces. Regardless of the type of coating, Patio Design inc. will meet your highest standards.
Our goal is to target your needs with the quality of our products, the accuracy of our work, meeting the deadlines and our unparalleled after-sales service to supervise your project using the best service possible in the realization of your project. In addition, our experts are able to provide unique design, with your cooperation, to achieve a custom design.
On this website you will get an overview of several patios and terraces constructions that are realizations of Patio Design inc.
Do not forget to check our catalog of achievements. We are very proud of the projects we have designed and implemented. These projects show that we are the industry benchmark and we can meet your highest expectations for the construction of the deck of your dreams.