Custom Inground Pools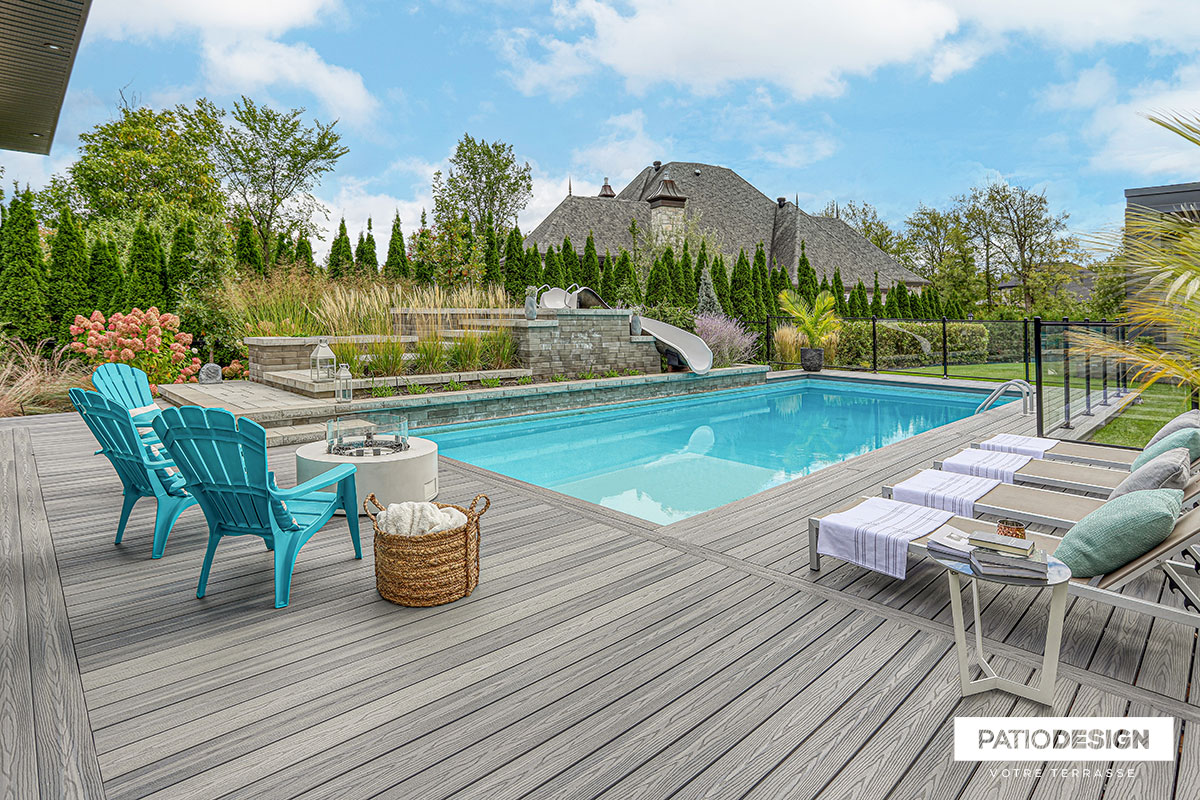 By choosing an inground pool by Patio Design, you ensure coordination of the work, carried out by seasoned project managers, facilitating, and accelerating the stages of purchase, delivery, and installation of a residential swimming pool.
Patio Design only uses its own employees, without intermediaries or subcontractors. Unlike many competitors or general contractors, the degree of mobilization and the level of commitment are therefore tangible in the field.
For an investment like an outdoor inground pool, expertise is essential. From the first to the last day, Patio Design will deliver impeccable service to you.
The Patio Design team offers five models of in-ground swimming pools.
1. Inground pool with insulating formwork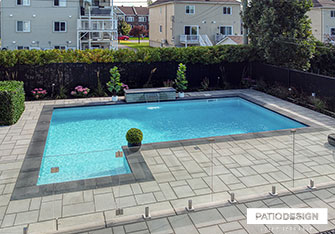 Advantages: technique like that of the foundations and solages of Quebec houses. Exceptional durability, therefore rapid profitability.

Solution adapted to climatic and seasonal stresses.
top of the range system, recommended by Patio Design, which has the best expertise in Quebec to install and deliver this type of inground pool.
Reinforced concrete, maintenance free.
Design customizable, sizes and formats made to measure, adapted to your terrain.
Can be installed in restricted area.
Stores heat at night, so saves heating costs during the day.
Flexibility and the possibility of delivering it semi-inground, for aesthetic or practical reasons, for example when the difference in level of the ground is sloping.

Disadvantage: slightly higher cost to purchase.
Your swimming pool, your way of life
The self-supporting structure of the inground pool in insulating formwork signed Patio Design also offers you the freedom to arrange the edge of your pool with several types of materials and coatings.
This latitude will allow you to create layouts anchored to your lifestyle, to the look of your house and to the whole lot. either in town, in the suburbs or in the forest.
Infinite flexibility
For the tour of your inground pool with insulating formwork, you can therefore opt for a paving stone solution, in < strong> concrete, wood or composite in an infinite choice of textures and colors. The insulating formwork technique eliminates the need for traditional concrete sidewalks which often end up working, warping, and splitting. This flexibility is also tangible at the bottom of the water. Flat bottom, at 45 degrees, with or without diving pit: with this inground pool solution from Patio Design, everything becomes possible.
2. Fiberglass inground pool
ADVANTAGES AND CHARACTERISTICS OF THE FIBERGLASS POOL
Quick installation
Easy maintenance and cleaning
The most durable in the industry
Longer life span
The installation of a fiberglass pool is very fast. Having a highly qualified workforce and all the necessary machinery to ensure a quality installation, Patio Design is able to perform the installation of a fiberglass pool in only one day.
Patio Design's fiberglass pools are extremely solid and very well insulated, which gives this type of pool a longer life span. Compared to steel pools that have vinyl liners that need to be changed over time, fiberglass pools are more resistant to fading and damage from animals.
Patio Design's fiberglass pools ensure a higher water temperature than any other fiberglass model in the industry, at least 7°F higher. In fact, thanks to a heating system specially designed for this type of model and superior insulation, Patio Design's pools will allow you to start your swimming season earlier and enjoy it for a longer period. Our fiber pools have some of the lowest heating costs in the industry because our pools are simply better designed, better insulated and better equipped.
Maintenance of fiberglass pools is easy and less time consuming than steel pools. With increased resistance to fading over time, fiberglass pools prevent dirt from adhering to the walls and make maintenance easier. The Gel Coat finish reduces the risk of algae formation and allows for quick and efficient cleaning. Dirt will stay along the edge rather than sticking to it as it normally would on a vinyl liner.
In order to counter the movements that can be caused by freeze-thaw cycles, Patio Design has developed a unique drainage and drying system around its fiberglass pools, allowing water to drain away and thus increasing its life span.
Finally, Patio Design's fiberglass pools are by far the most rigid on the market, offering great resistance to bending and cracking. These characteristics make Patio Design's pools the best adapted for its customers in Quebec. Since they are very solid, Patio Design fiber pools react very well to the handling necessary for installation and are specially designed to resist temperature changes (freeze-thaw).
3. Steel Inground pool
Advantage: low costs
Disadvantage: steel is a conductor of temperature. As the pool gets cold at night, your heat pump bills will go up significantly.
4. Resin inground pool
Advantage: rot-proof polystyrene panels
Disadvantage: expensive. In addition, the resin has not necessarily been proven over several decades of use in in-ground swimming pools in Quebec.
5. Shotcrete Inground pool
Advantage: top of the range and flexibility
Disadvantage: high costs and high precision handling, requiring expertise that is sometimes difficult to achieve in the field. Each project of this type carries an element of risk due to the extreme thoroughness required when applying concrete.
Swim in happiness, with Patio Design
What sets Patio Design apart from its competitors is that beyond its expertise in the installation and layout of in-ground swimming pools, you will also benefit from the unparalleled experience and a turnkey delivery for your entire backyard.
Global and long-term vision of the project
Inventory and materials already available in warehouse
Respect of the delivery schedule
Quality materials
Quick installation
No subcontractor, only salaried specialists
Fully dedicated team and machinery